Nasi wykładowcy zagraniczni
Prof. Vadym Mangubi (Ukraina)
Head of the psychiatric department for primary psychotic episodes with children's wards at the Regional Clinical Psychiatric Hospital No. 3 in Kharkiv.
Supervisor of the internship program for young psychiatrists at the Regional Clinical Psychiatric Hospital No. 3 in Kharkiv.
Training and education in psychiatry and psychotherapy in Great Britain, Austria, and France: Trainings in Psychiatry, 3rd Maudsley Forum (a course for European psychiatrists) King's College London, Institute of Psychiatry and psychotherapy, grant by Organizational Committee, Trainings in Psychiatry and psychotherapy, Weill Medical College of Cornell University, Salzburg, Austria, The course of trauma therapy in Israel.
I have three specialties: "adult" psychiatrist, "child psychiatrist" and psychotherapist.
As a qualified psychotherapist, I have extensive experience working with anxiety, PTSD, depression, and other mental health issues among both civilians and military personnel.
Since 2014, I have focused on treating displaced persons, providing pharmacological, social, and psychotherapeutic support. I also treat mental health disorders in pregnant women and their postpartum states, especially among displaced persons.
Professional lecturer and speaker. Areas of interest: "Mental Disorders", "Anxiety, Depression", "Post-Traumatic Stress Disorders".
Author and host of the educational television program "Here and Now" for 12 years.
Member of the European Psychiatric Association, Association of Psychiatrists of Ukraine, Association of Neurologists, Psychiatrists and Narcologists of Ukraine.
Since February 24, 2022, I have been providing psychiatric and psychotherapeutic assistance to military personnel, individuals affected by military actions, volunteers, and other persons involved in the elimination of the consequences of military actions and to the population. I work in several volunteer centers with evacuated and injured civilians.
Dr Aleksandra Madejska Soltani (Francja)
Education: MD graduate from the Medical University of Kiev
Specialty: psychiatry diploma at the Medical University of Lille, France.
I have started my medical practice in Morocco as a general doctor practitioner for 10 years after which I moved to France to specialize.
Expertise in Elderly medicine and neurocognitive disorders such as Alzheimer Disease.
My clinical practice is completed by a competence in behavioral therapy, brief psychodynamic therapy, EFT and NLP.
I am currently working as a senior psychiatrist at "Mental Health Center" in Roubaix (North of France). It is composed of 8 psychiatrists, 6 psychologists, 1 ART-therapy practitioner and 1 chiropractor.
The center offers a wide range of evaluations and therapies such as ADHD and autism spectrum disorder screening, occupational medicine, RTMS protocols, judicial expertise.
I am pleased to give an annual class about clinical hypnosis and holistic approaches in psychiatry at the medical university of Amiens since 2018.
And I am also delighted to be part of the medical association "Petit Repp" gathering recognized psychiatrists of the region presenting monthly the latest worldwide recommendations of their field.
Dr Adriana Iturbide Beltrán (Meksyk)
I studied medicine at the Ánahuac University. I'm a specialist in Clinical Nutrition by the Anáhuac University and in Psychiatry by the National Institute of Neurology and Neurosurgery Manuel Velasco Suárez.
I have an international certification in NeuroLaw by UNITAR, and I have studied Cognitive Behavioral Therapy and Acceptance and Commitment Therapy.
I am certified by the Mexican Council of Psychiatry and I'm a member of the Mexican Association of Neurology and Psychiatry.
I work in my private practice.
Dr Kamilia Soltani (Francja)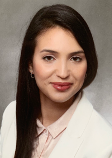 Former student of the Medical University of Lublin, MD degree graduate of 2020. 3rd year Psychiatry resident of the university of Amiens. Currently doing my 6th semester at the psychiatric hospital (CHI), Clermont de l'oise, region of Picardie.
Successfully completed my inter university semester at the expert center of resistant bipolar and depression disorder, Hospital Fernand Widal (APHP), Paris.
Member of the association of psychiatric students of Amiens (APIP) and the association of French psychiatric students (AFFEP).
Representative/President of psychiatric residents of CHI. Member of the association of psychiatrists of Lille (Petit rep).
Piotr Boguta
Education: Faculty of Pharmacy with Medical Analytics Division from Medical University of Lublin in 2007.
Recently I have also been pursuing my doctorate degree in toxicology.
I have been working within UK private mental health hospitals as a clinical pharmacist and pharmacist in community pharmacy with recent opportunity of National Health Service pharmacist experience in Royal Berkshire Hospital dispensary.
I have been a practising pharmacist and a member of General Pharmaceutical Council in Great Britain for 15 years now.